Visitors coming from Kuala Lumpur, Petaling Jaya and most destinations in Selangor State can take any of the major highways and routes towards Kuala Lumpur International Airport (KLIA) which will lead to Sepang district. Once approaching KLIA, take the turn-off to Low Cost Carrier Terminal (LCCT) which will also head past the Sepang International Circuit. After several traffic lights, there will be a left turning to Sepang, indicated by a blue (not green) signboard. This will lead to the trunk road heading towards the coast. Proceed for several km on this road all the way until you reach the turning to Bagan Lalang, which is marked by a large signboard that says 'Sepang Gold Coast'. From here on, it is a narrow road through traditional Malay villages and oil palm plantations.
Eventually, you'll arrive at the beach area, which is just after Kampung Sungai Pelek.The total distance from Kuala Lumpur is about 60 km, or an hour's drive by car. There are no buses from KL that come to Bagan Lalang directly, the closest is Sepang town itself. From Sepang town, you can take the bus to Kampung Sungai Pelek, where Pantai Bagan Lalang is located. Alternatively, you can take a taxi or cab from the city, but it is recommended to drive your own vehicle. If you plan of getting there from Klang, you can use the coastal trunk road along the coast line of Selangor, heading south towards Morib Beach, about 30 km away. Bagan Lalang is situated about 40 km after Morib. Travellers coming from the direction of Port Dickson or Malacca can also use the same coastal trunk road, but heading north.
Bagan Lalang is located in Kampung Sungai Pelek which lies in Sepang district, near KLIA. It has become one of the most popular beachside destinations in Selangor because of its close distance to Kuala Lumpur, easy access by major highways, tranquil and quiet beach area as well as excellent seafood cuisine, which are mostly offered from hawker stall restaurants. On weekends, Bagan Lalang becomes packed with large numbers of visitors.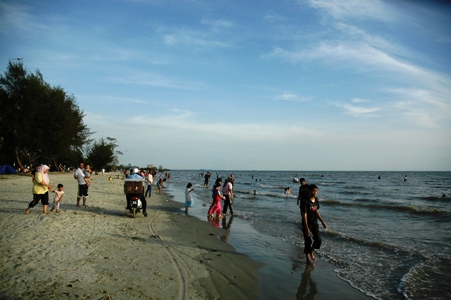 In the past, its only tourist attraction was the sport fishing activities offered from 'Kelongs', which were wooden platforms built across the sea. Much of the shore was covered with its original vegetation of mangroves and the surrounding villages subsisted on commercial fishing and ferrying the occasional angling groups from urban areas. The authorities in the early twenties decided on a massive development project which would turn the area into a major holiday and resort destination dubbed 'Sepang Gold Coast'. Today, most of the proposals have not left the planning stage, but a few have come into fruition, namely a section of the beach that has become an upmarket dining area with fancy cafes and landscaped gardens. Another part of the Gold Coast development, that is under progress, is a luxury resort built on stilts that reaches far out into the sea. It s set to open in future, its foundations and buildings clearly visible from the beach.